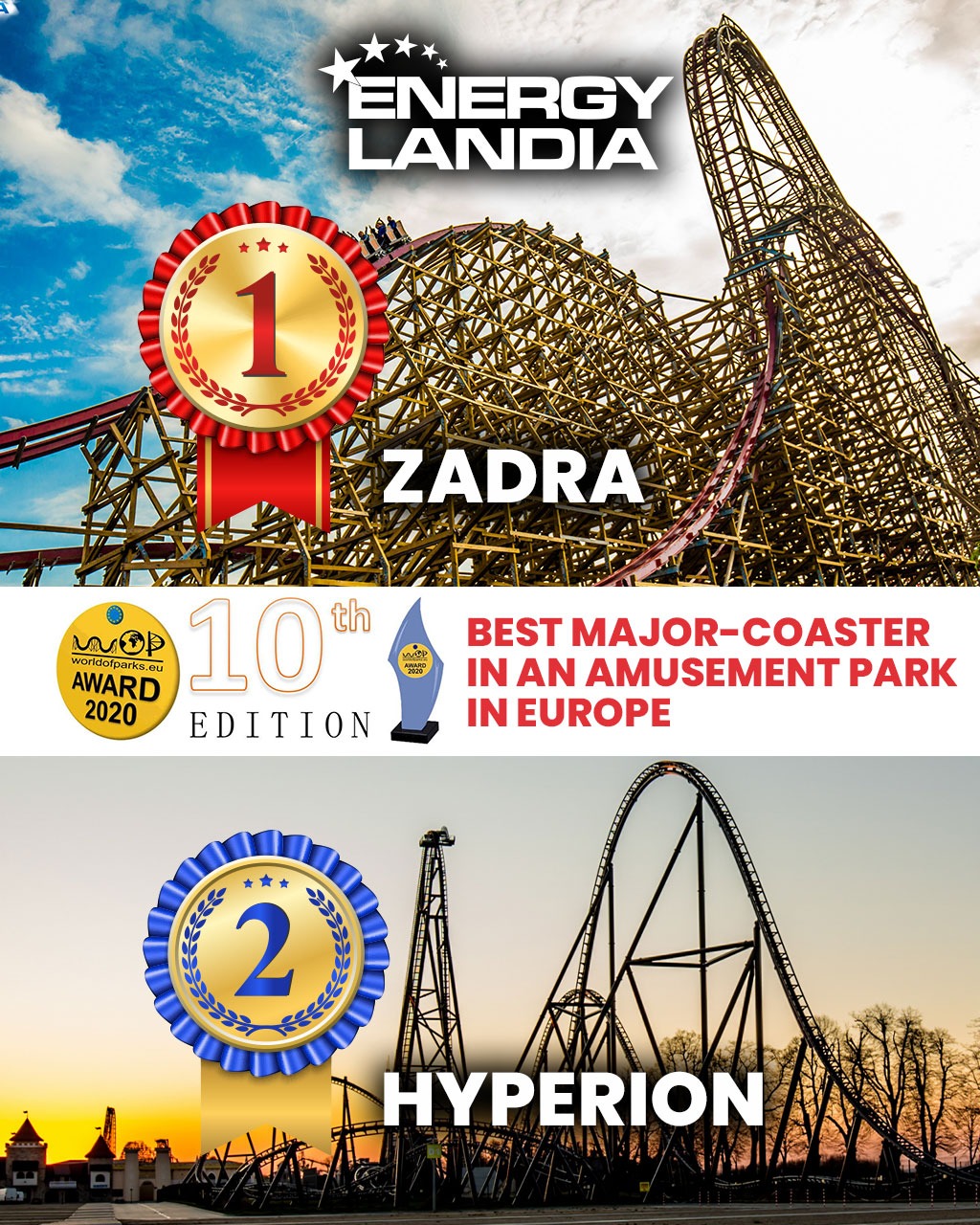 ENERGYLANDIA received two statues at the Worldofparks-Awards 2020
Energylandia has won the prestigious international Worldofparks-Awards 2020 competition by snatching two top awards!
This year saw yet another edition of the Worldofparks-Awards competition. It has been organized for 10 years by one of the most important portals in the industry: worldofparks.eu. Online voting took place from October 30 to November 8 and was carried out in four different categories.
Energylandia has been truly recognised in this edition of the contest. The ENERGYLANDIA Amusement Park took two top spots on the podium in the important category of "best roller coaster in a European theme park". Our crazy and unpredictable Zadra placed first in this category, and the out-of-this-world fast Hyperion placed second.
The voting showed that Energylandia with its great Roller Coasters is one of the best theme parks in Europe! It is thanks to these breath-taking coasters and phenomenal attractions that the Guests of our Amusement Park can experience such incredible feelings, enjoy amazing adventures, and spend wonderful moments here!
Zadra – for those seeking maximum thrills
The wooden-steel Zadra can be found in Energylandia in the Dragon Town Zone – a new area of our Park opened just last year. There are several new attractions to discover there, but our pride-and-joy is this world record holder! This is the world's highest hybrid coaster, which is constructed mainly of wood. It reaches the speed of 121 km/h and boasts nearly 64 m in height. The 90° drop, 3 inversions, ingenious shape and construction of the track will make you remember the ride on Zadra for a very long time!
Hyperion – for the absolute bravest
The highest and fastest Mega Coaster Hyperion in Europe awaits those craving for extreme sensations – 77 metres in height and speed of as much as 142 km/h guarantee an unforgettable experience. But that's not all, because the ride starts with an 80-metre drop with an 85° angle of inclination, at the end of which you enter the underground tunnel. Already here, the screams and cries of passengers are very clearly audible! Numerous turns, elevations, phenomenal positive and negative overloads make it the top roller coaster for real adrenaline fans.
See you in Energylandia- the most modern theme park in Poland!