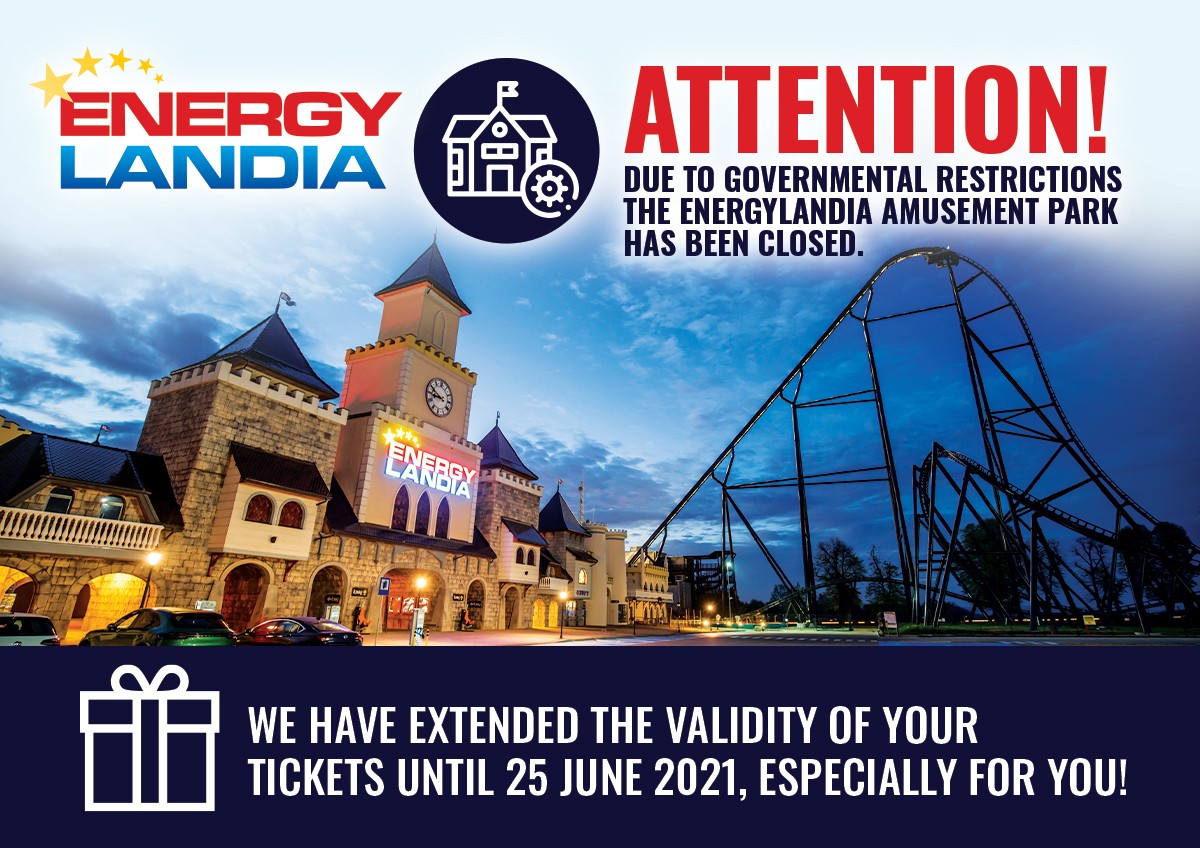 Dear Guests,
due to the fact that the Oświęcim region is in the red zone and it is subject to strict governmental restrictions, 16 October was the last day Energylandia was open on in the 2020 season.
Energylandia is ready for our autumn events, however the procedures cannot be argued with. We have been working tirelessly on haunted houses, decorating the Park to the tiniest detail to yet again amaze you and give you something more to enjoy and remember for years to come.
We are beyond sorry that we cannot bring the planned events to you, however, in the light of restrictions implemented due to the increased number of infections, we are unable to invite you onto the premises of our Park.
Your health and safety are not subject to any negotiations, they are priceless, so we had no choice but to shut down for the remainder of the season. We can't celebrate Halloween together this year, for the first time since we opened, we will not finish the season together on Halloween Night.
We also had to make another tough decision about resigning from the winter season. Although the decision to close the Park was sudden, and took us by surprise, we very carefully and objectively considered the repercussions of cancelling the Winter Kingdom. We have taken into account your and our health as well as the fact that in current circumstances the event could not have been as special as we intended. The sanitary restrictions are particularly strict and have set up equally strict boundaries to what we could do.
Dear fans, please remember that we will always fight for you, because we know that you are worth it!
It's worth it to us to wait for your smiles, it's worth it to see your memories being made, it's wonderful to share the incredible energy of THIS PLACE.
But sometimes you just have to let go… For the common good, we have to wait. Without losing faith that it will be beautiful again one day. We have taken great care of your safety this season, and attentively listened to your suggestions. Together with our team, we have worked out excellent procedures, which allowed you to have fun and relax in comfort.
You should know that we will never give up! All we do is for you and thanks to you. You have never let us down, and we will do the same! We are determined to always be ready! Always, with the fundamental concern for your safety and comfort, we remain ready for anything life brings our way.
But it is up to you to carry out the most important mission of these challenging times. Take good care of yourselves, your health and fitness! Keep positive and take care of your loved ones. You are the priority; we will be waiting for you and we will prepare a spectacular next season for you!
To meet the demands of this difficult time, we have extended the validity of all electronic and gift tickets until 25 June 2021.
Your annual passes will stay valid for additional 50 days.
We wish you lots of health and good fortune! Keep up your positive attitude and we will continue to cheer you up with our entries and good content!
Let's stay close on our social media channels, that's where we will move all our Energy as that way we can create a happy space for all Energylandia lovers!