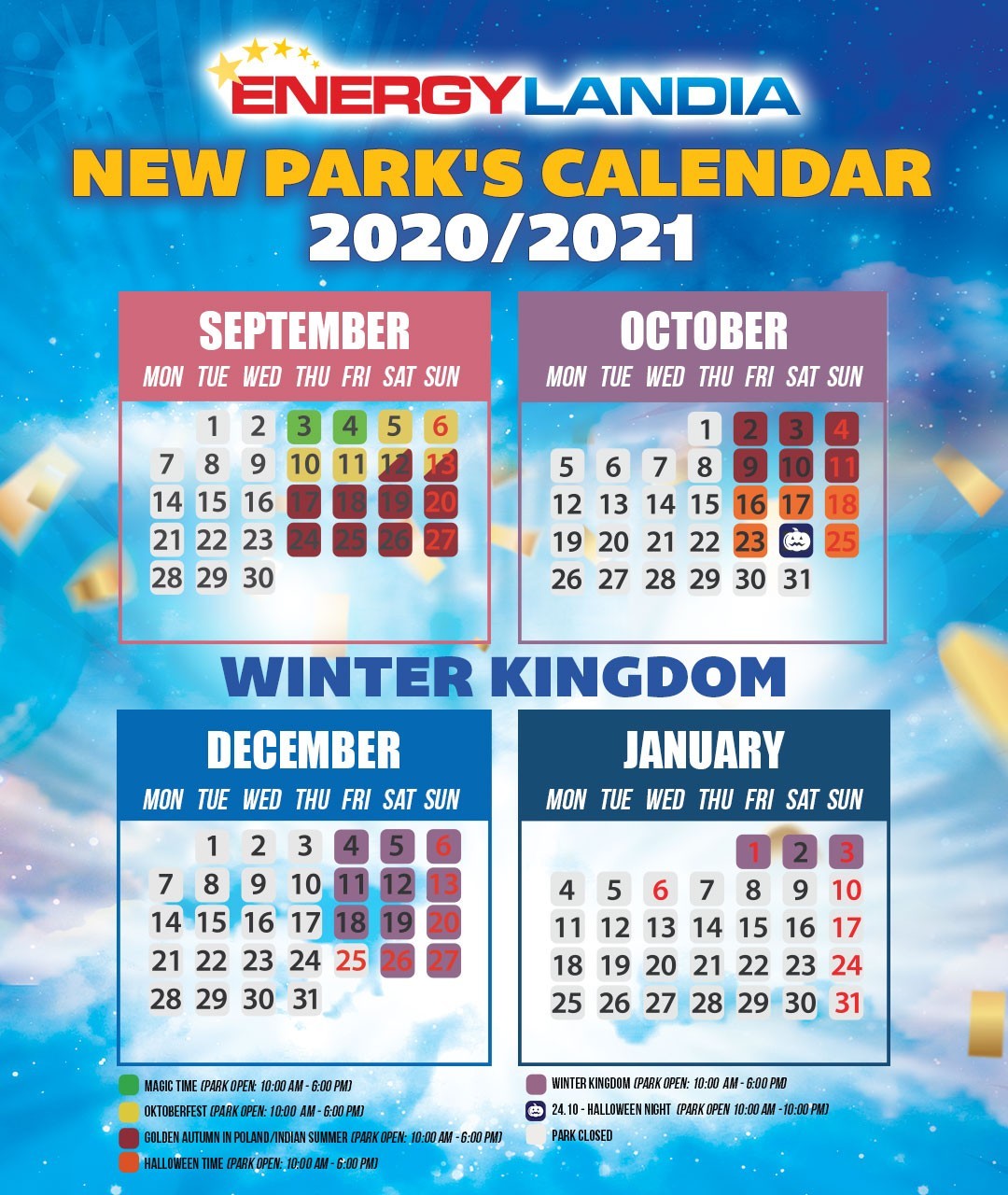 Dearest Guests,
we would like to inform you about some changes in our Park's Calendar coming in September, October, December, and January.
As you all know, since you've been with us all this time, this season has been particularly hard on us. The tourist and entertainment industries are among those economy sectors which took the biggest hit in connection with the world's pandemic.
First came the 2-month delay in the opening of our Park, then extensive investments in protective measures so that our staff and our Guests could feel safe at Energylandia, which was our priority.
We couldn't give up! We've made the decision to open the Park, ready for new challenges. The first days of operation weren't easy, as all of this was happening with all due care in the conditions of softening the economical restrictions.
In the summer we noticed a significant drop in the turnout, but we remained hopeful about the future, trusting in our team, and in our amazing Guests. And you've never let us down! We just got flooded with a huge wave of the nicest comments from you. You spoke of your happiness, that we are the sunny oasis for you and your families. We were overcome with gratitude and humbleness, and yet again we have proved that Energylandia is strong with the power of people, our Guests: you.
Unfortunately, we received yet another hard blow, which was the main factor in our decision to amend the Park's Calendar. The media were buzzing with untrue and even harmful information about the alleged outbreak of the virus in the park. This information had an immediate impact on the attendance in the park and really tested our strength.
The decision to change the calendar was not an easy one, and believe us, we have analysed it extremely meticulously. We have taken into account past events, but also the coming days, which in normal circumstances would be filled with September school trips, visits of foreign guests. But, unfortunately, there is no chance of this happening.
Since you are our primary concern, we have decided to be, at least in part, there for you in September, October, December, and January.
We are not shutting our doors completely. We want to be with you and for you. That is why we ask for your understanding and trust in the decisions we make.